Brief –
In the era of Modern Trading there are many types of Traders. Firstly, people who tend to analyze the market and "Invest" in an asset for a certain period of time. They are hence referred to as "Investors" who buy and hold. May the market always be with them 😀
Secondly, there are traders known as "Scalpers" or "Swing Traders" who wish to capture quick gains from slight movement of the market. Be in an Upward trend, such traders buy the dips or be a Downward Trend when they short the rips to quickly book their profits.
Investing is Profitable if a Trader chooses the right asset at the right time with good market analysis but many people like the crypto markets for it's quick gains. These Scalp Traders or Swing Traders are not wrong and they can be 10 times more profitable than actual Investors all they need is the right tools to predict the upcoming market movements.
Overview –
Here at FindReversals, we equip the Traders with "The Best" tools carefully architectured by the Traders and for the Traders so as to improve efficiency and predict what the market makers have planned for us in the future. If you are new here it is highly recommended to start your trading journey with us by having a look at our Indicators section. Glad if you already had a look at our Indicators and liked them 🙂

Presenting our all new and unmatched, Quant Analysis Bot or aka Automated Bottom Finder!
What is Quant Analysis?
Quant Analysis or Quantitative Analysis (QA) is a technique that uses mathematical and statistical modeling, measurement, and research to understand behavior.
Quantitative analysts represent a given reality in terms of a numerical value, i.e., they follow certain codes of requirements and display it in terms of a numerical value.
Quantitative analysis is used for the evaluation of a financial instrument and predicting real-world events such as upcoming price changes.
How to use the Quant Analysis/Automated Bottom Finder Bot?
Features –
Scans for Long/Buy on 80 pairs of Binance Future's coins/tokens.
Displays 5 levels with their Risk Metric attached.
Zero Downtime so that you don't miss a move. 😉
Description –
Below is a Sample Message of how the Alerts from the Bot like and Let's Debug it!
Asset – The name of the Coin/Token that has followed the code of requirement.
Side – The side which a trader needs to be to maximize ROI. Currently set to Longs only.
Level – The Level of Risk attached with the Asset. There are 5 levels :-

Level 1 – High Risk – To be used only when the asset is Extremely Bullish.
Level 2 – Medium/High Risk – Also to be used when the asset is Extreme Bullish.
Level 3 – Medium Risk – To be used when the asset is Bullish in Medium term.
Level 4- Medium/Low Risk – To be used when the asset is Bearish and may have a reversal in price soon.
Level 5 – Low Risk – After reaching Level 5 the Bearish asset might take a reversal and move to it's closest resistance.

Price – The closing price of the previous candle on the asset.
Time frame – Time frame on which the bot is scanning for results. Currently set to 15min.
Steps to implement before putting your $ –
These are some steps that every trader must follow if he/she wishes to "actually" achieve success from the Market. These steps are sorted according to different market conditions for simplicity.
Highly Bullish Market Conditions:
Best trade conditions occur here when the market is highly volatile.
Put your money where your mouth is – If as asset is extremely bullish and you have missed the first big move, have no worries, there's also a dip to buy.
After scanning if the bot returns back your favorite bullish asset. Casually see the Risk level and Place a Long.
Level 1-3 Risk conditions are usually favorable for such market types.
Always use other indicators from our Indicator Suite to confirm your entry point with the bot.
Example –
Trader to Trader Advice – Try to Target Price as low as 1-2% with Trailing Profit and Stop Loss after entry to maximize RoI on your trade coz it's already enough with leverage you shall use. Also if you have already scalped and booked profits the first time it's better to leave the asset for a couple hours and focus on the next time. Usually, people tend to loose more when they trade more 🙂
Medium Bullish Market Condition / Ranging Market –
Neither too Low nor too high.
Ranging Markets provide one of the best opportunities to casually increase your portfolio in short range of movements.
Levels 1-4 are advised for this, specifically levels 3 and 4 and level 5 for golden opportunities.
Always confirm your entry point with other indicators from our Indicator Suite.
Example –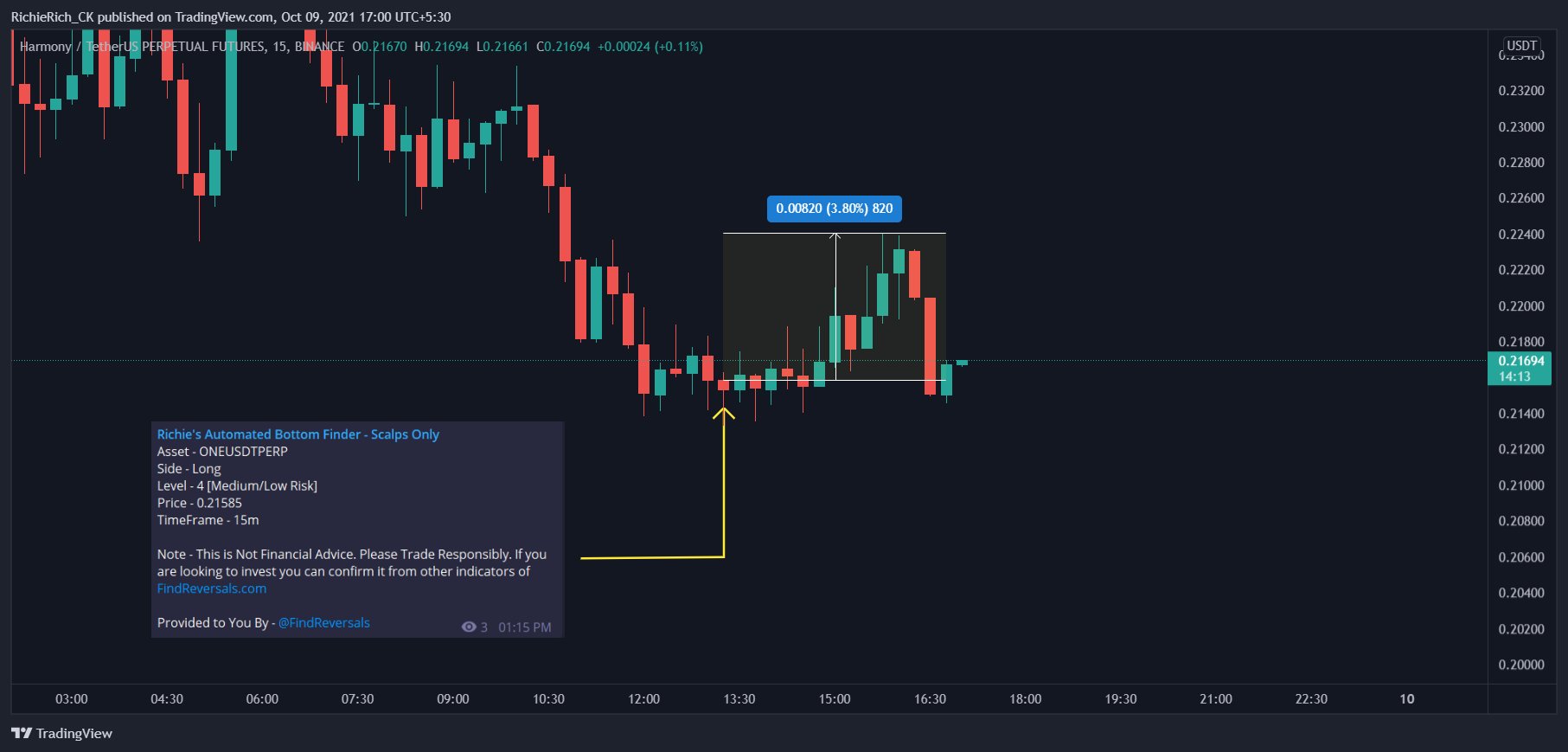 Trader to Trader Advice (once more) – Try to Target Price as low as 1-2% with Trailing Profit and Stop Loss after entry to maximize RoI on your trade coz it's already enough with leverage you shall use.
Bearish Market –
Filter out the most strong coin from the alerts you will be receiving.
Level 5 advised for quick scalp. Start looking at the chart when Level 3 is reached and be prepared mentally to long near Level 4 and Level 5.
If level 5 is reached start to DCA in the Trade and Buy any scam wicks that'll cause longs liquidations.
Sit Back. Target Price your scalp and enjoy.
If the market is really bearish, you can also wait for the price to reach level 4-5 first and then reach those levels again in 1-3hrs. This is virtually plotting a bullish divergence setup. This will also be a good long scalp setup.
Always and please always confirm your entry point with other indicators from our Indicator Suite because protecting your capital in such conditions is of top most priority.
Example –
Bearish Market [Slow Bleed]-
This is a special case that I am highlighting in which you should basically skip past the asset and check later.
The time frame of the Bot is currently set to 15min and such slow bleed cases occur in Higher Time Frame corrections.
Hence to know if the market is having or going to have a Slow Bleed, look out for BTC.D (BTC Dominance). If BTC.D is rushing higher then alts may suffer such types of bleed cases. Also look out for Tops on assets using our Extreme Top and Bottom Finder indicator to avoid such cases and get trapped in Longs.
Since we will be trading Perpetual Contracts, we cannot deny Funding. A high funding, usually above 0.05, will cause any alt to bleed as well. Hence skip past the coins/tokens that have high funding rates. Only trade a high funding rate if the overall market is extremely bullish.
What to note – If the market is Bearish with volatility, Buy the Dumps. If it just keeps bleeding slowly and steadily (whales booking profits) skip the asset and check back for longs later 😀
Example –
Summary –
Least to say, trading in Crypto is tough if you are in for short term gains. However, with the right tools and the best technical indicators there is a limited possibility of impossibility. Be it scalp traders or swing traders or long term investors, everyone looks to buy an asset as low as possible. At FindReversals's you'll find one stop solution for your every need in financial market.
Memorize and Follow all the steps mentioned above. Paper trade with it for a week. Become confident and start investing with the right tools because there is always a market to trade and money to make!
Always remember no tool will be able to help you if you are trading (anything) without making a plan. Every resource available on the website will help you in planning. It is then up to you how you trade a plan. Memorize your plan and no trader could be more successful than you. Simply grow by compounding 1% each day on low leverage and have a proper entry and exit strategy. 1% may sound less but with leverage it's already x times what you could gained in spot. Be thankful to the market for the gains and ALWAYS protect capital first! Thank me after a month or two after seeing the magic of 1% compounded 😀
Contact US for Direct Access for the Bot!
Since scalping with leverage requires traders who can execute a perfect plan/strategy with the analysis of tools provided to them. We will be limiting the access of this Bot so that people with not much of experience don't get trapped in the market and loose their portfolio. It is being done as a precautionary measure for relatively new traders.
Contact us from Below to Know about the Seat Availability and Pricing!
Reach out to us via Telegram!
Telegram
Reach out to us via an Email!
Email
Reach out to us via Twitter!
Twitter